Is regenerative ranching just a buzzword, or is there a lot more to it than that? Let's take a deeper look into what regenerative practices are all about.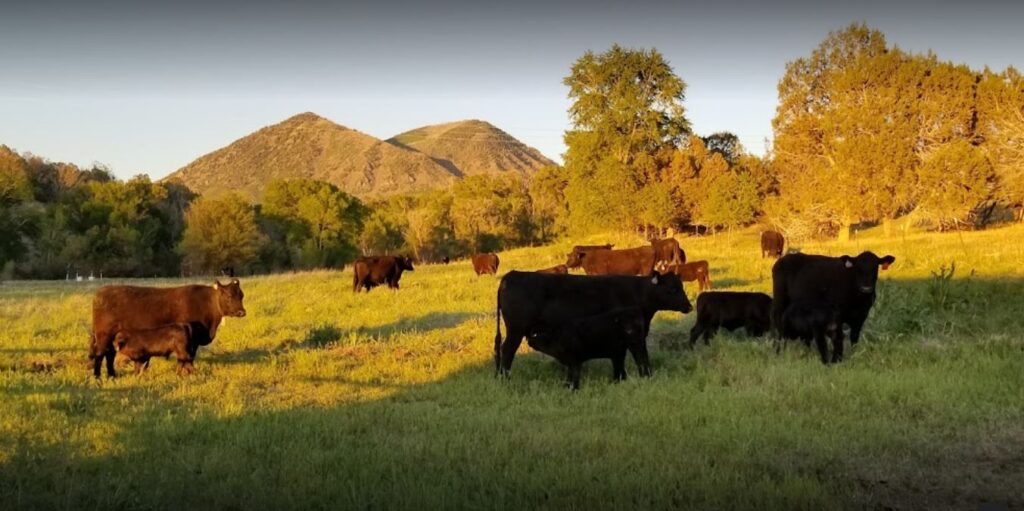 Beef is one of the most popular meats consumed around the world, but not all beef is created equal. In recent years, there has been a growing movement towards regenerative beef, which offers a host of benefits over conventional beef production. In this blog post, we will explore the nutritional differences between grain-fed and grass-fed beef, as well as the environmental benefits of regenerative ranching. I'm hoping to convince you its more than a mouthful of buzzwords!
Nutritional Differences
Grain-fed beef is typically raised in feedlots and fed a diet of corn and soybeans. This diet is high in omega-6 fatty acids and low in omega-3 fatty acids. Omega-6 fatty acids are pro-inflammatory, while omega-3 fatty acids are anti-inflammatory. This imbalance can lead to chronic inflammation in the body, which has been linked to a range of health issues such as heart disease, diabetes, and cancer. The two fatty acids are shown below and are identified by their different double bond locations.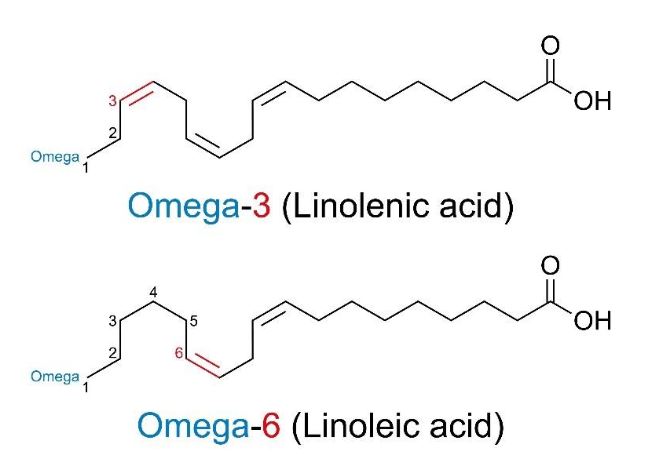 Grass-fed beef, on the other hand, is raised on pasture and fed a diet of grass and other forage. This diet is high in omega-3 fatty acids and low in omega-6 fatty acids, which helps to balance the ratio of these fatty acids in the body. Grass-fed beef also contains higher levels of conjugated linoleic acid (CLA), a type of healthy fat that has been shown to have anti-inflammatory and anti-cancer properties.
In addition to being higher in healthy fats, grass-fed beef is also higher in vitamins and minerals. Grass-fed beef contains higher levels of vitamin E, beta-carotene, and other antioxidants than grain-fed beef. Grass-fed beef is also a good source of vitamin K2, which plays an important role in bone and heart health.
Environmental Benefits
Regenerative ranching, which is a type of farming that focuses on restoring the health of the soil and the ecosystem, has a range of environmental benefits. One of the key benefits of regenerative ranching is that it sequesters carbon. When ranchers use regenerative practices such as rotational grazing and cover cropping, they help to build organic matter in the soil. This organic matter contains carbon, which is taken out of the atmosphere and stored in the soil. In fact, regenerative ranching has the potential to sequester significant amounts of carbon, which can help to mitigate climate change. Below is a simplified illustration of how this process works.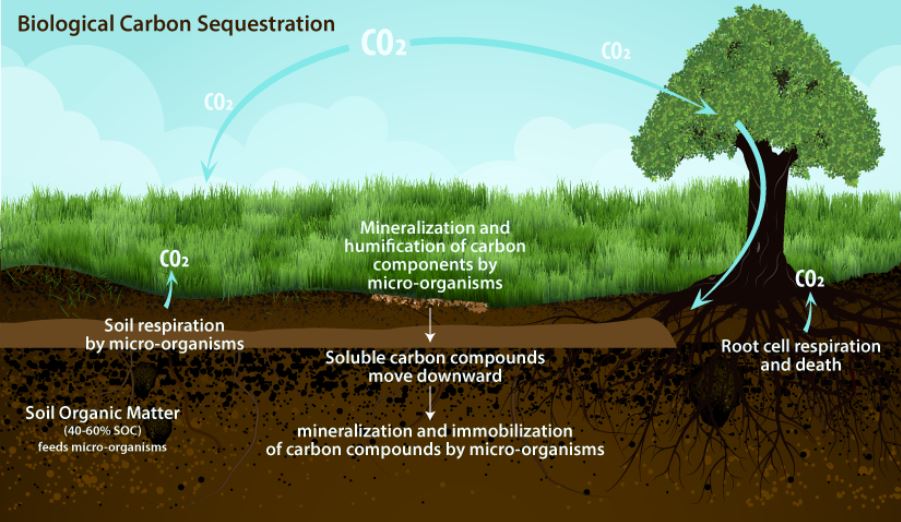 Regenerative ranching also promotes biodiversity. When ranchers use regenerative practices, they create a diverse ecosystem that supports a range of plants and animals. This diversity is important because it helps to create a more resilient ecosystem that are better able to withstand disruptions such as droughts or floods. Regenerative ranching also provides habitat for many insects and animals, including pollinators such as bees and butterflies.
Optimizing Diesel Usage
Another benefit of regenerative ranching is that it can help to optimize diesel usage. Ranchers who use regenerative practices such as rotational grazing can reduce the amount of diesel they use to transport feed and water to their livestock. This is because rotational grazing allows livestock to graze on different areas of the pasture, which means they don't need to be transported as often. This can help to reduce the carbon footprint of the ranch and save money on fuel costs.
Healing the Soil and Land
Regenerative ranching is an agricultural practice that focuses on restoring and healing the soil and land through sustainable and holistic management. This approach aims to promote the health and well-being of the ecosystem by regenerating natural resources and creating a thriving and resilient environment. Regenerative ranching involves the use of techniques that increase soil organic matter, biodiversity, and carbon sequestration, while reducing soil erosion and nutrient loss.
One of the primary ways that regenerative ranching heals the soil and land is by implementing rotational grazing. This involves dividing a pasture into smaller paddocks and rotating livestock through each paddock in a planned sequence. This allows the land to rest and recover between grazing periods, which stimulates plant growth and increases the diversity of plant species. This, in turn, promotes the regeneration of soil health, as the plants provide the necessary nutrients to feed soil microbes, which play a critical role in soil health and fertility.
Regenerative ranching also emphasizes the use of cover crops and reduced tillage, which help to improve soil health by increasing soil organic matter, reducing soil erosion, and promoting water retention. Cover crops are planted in between cash crops and provide a living cover for the soil, which protects it from the elements and helps to retain nutrients. Reduced tillage practices reduce soil disturbance and prevent soil compaction, which can help to increase soil water infiltration and promote healthy root growth.
Overall, regenerative ranching is a sustainable and holistic approach to agriculture that promotes the health and well-being of the ecosystem by restoring and healing the soil and land. By implementing practices such as rotational grazing, cover cropping, and reduced tillage, regenerative ranchers are helping to create a thriving and resilient environment that benefits both the land and the people who depend on it.
AUPA sources it's beef from two top-tier grass-fed & regenerative ranched here in Colorado; Wrich Ranches & Flying B Bar.
Wrich Ranches
Best Beef in Colorado. Jason Wrich is a leader in the regenerative farm & ranch community, and devoted to building soil while growing the best animal protein on the planet. The proof is in the taste and texture – Grass fed and Grass finished. He also delivers to the Denver area and accepts bitcoin which is a plus! We are excited and proud to be doing business with such a leader in the space! Watch this cool video they just released and also check out their website.
Flying B Bar
Flying B Bar Cattle Ranch, located in Strasburg, Colorado, raises Black Angus cattle, and is the passion pursuit of the Buchanan family; Brad, Margaret, Grace and Will. Our cattle are all grass fed and grass finished, which means they are never fed any grains or corn.
Most cattle are sent off to feed lot at about the age of 6 months to "finish", just after they are weaned from their mothers, and are penned up eating nothing but cracked corn, growth hormones and steroids. Cows in nature eat nothing but grass. In fact their stomachs aren't even designed to process corn, but it sure will put the weight on quickly. This can get them to market in a little over a year old.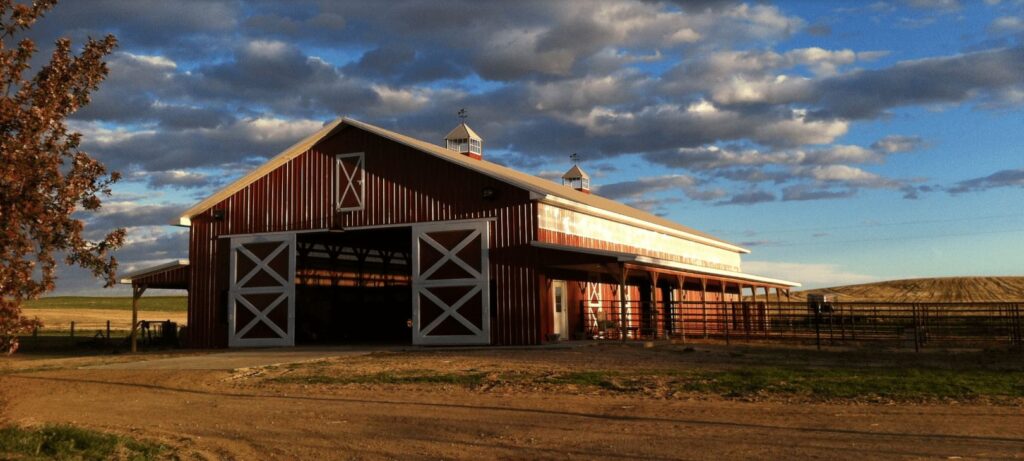 At the Flying B our cattle spend their lives on grass pasture, and there they stay until they are ready to come home for dinner. And if the pastures need to be supplemented during the winter, we only feed hay farmed right here at the ranch, usually Sorghum/Sudangrass and alfalfa or hay from farmers we know and trust. Please check out their website.
Hopefully you now see the word 'regenerative' as more than just a buzzword, its the way cattle ranching was done in the old days and we need a return too the traditional methods as we've lost our way in industrials feed lots.
This post covers our beef sourcing, if you want to learn about all of our other ingredient sourcing, JJ has written an excellent post about that!